You are in: Sitemap > Citroen ew10j4 engine
CitroŽn ew10j4 engine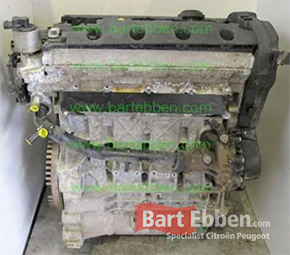 Look no further for a used Citroën ew10j4 engine, Bart Ebben stocks ew10 engines for your Citroen Xsara, Citroen Xsara Picasso, Citroen Evasion, Citroen C4, Citroen C5. Worldwide shipping and excellent technical knowledge are assets that will make ordering a used Citroen ew10j4 engine very simple. Ask our Citroen used parts salesteam for the right ew10j4 petrol engine for your car.


Advanced ew10j4 engine advice
The ew10j4 is a common engine manufactured by PSA, our salesteam can help you with all the details to make sure that changing your engine will be a smooth operation. It is important to know whether the engine you need has an RFR or a RFN code, we are able to trace this information for you if necessary.

In our own workshop engine changes are performed on a regular basis, therefore our knowledge base is growing every day. We provide you with this experience, giving you a headstart when changing a broken Citroen engine for a used motor from Bart Ebben.
Worldwide engine shipment
We ship Citroen engines worldwide every working day. Using proper packaging material and experienced shipping companies we do everything within our power to get the motor to your address in a reliable way and in a reasonable time.

Send us an ew10j4 engine related question

Citroen ew10j4 engine examples
Below you can find a couple of examples for particular Citroen ew10j4 engines:
Citroen Xsara ew10j4 RFN engine
Citroen Xsara Picasso ew10j4 RFR engine
Citroen Xsara Picasso ew10j4 RFN engine
Citroen Evasion ew10j4 RFN engine
Citroen C4 ew10j4 RFN engine
Citroen C5 ew10j4 RFN engine
Citroen C5 ew10j4 RFR engine
With over 40 years of experience as a professional cardismantler we know exactly which car part you need. With our specialisme in Citroën and Peugeot cars and vans our stock is based on exactly those spares where there's a demand for.


Exactly the right parts checked on VIN number
Over 65.000 car parts in our (online) warehouse
Part not found in our stock? We will search for a solution
Used car parts sold with a warranty & expert advice
Quick response to your part request
Swift delivery

Feel free to contact our salesteam on used car parts straight away.