You are in: Sitemap >
Online car parts
> Peugeot camshaft adjuster used 1.4 vti 1.4 vvt 1.6 vti 1922v9 1922r7
Peugeot camshaft adjuster used part 1.4 VTI - 1.4 VVT - 1.6 VTI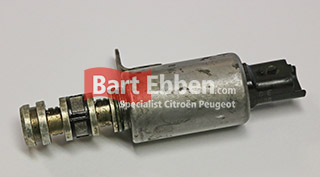 Peugeot camshaft adjuster used & new 1.0 - 1.2 - 1.4 - 1.6 VTI 1922V9 1922R7 1920LQ 1920HE V756665280 V75666528002 V758776080-03 V75877608003 220714 in stock. You can find adjusters for Peugeot 207, 208, 307, 308 and 407.

The camshaft adjusters often cause failure codes P0014 and P0016 wenn not working properly. In the video we show you the problem with these adjusters.

Peugeot camshaft adjuster problems
The adjusters from the 1.4 VTI, 1.4 VVT and 1.6 VTI engines often cause trouble when they get older. The adjuster pin get's stuck sometimes causing the motor management to notice a false measurement and it therefore generates failure codes like the P0014 and P0016. By exchanging the adjusters the problem is solved most of the time.
Camshaft adjuster shipment
On a daily basis we ship many Peugeot car parts used and new like a camshaft adjuster. Our shipment reaches out worldwide using automotive shipping experts. Our team will properly pack the camshaft adjuster, making sure it will arrive at your workshop in excellent condition.
Examples Peugeot camshaft adjuster
Peugeot 207 Camshaft adjuster 1.4 16V KFU 9649309780 - 1920GR
Peugeot 207 Camshaft adjuster HPI - VTI 1.4 16V 8FS Delphi
Peugeot 207 Camshaft adjuster HPI - VTI 1.6 16V 5FW Delphi
Peugeot 208 Camshaft adjuster 1.2 12V VTI HM01 EB2
Peugeot 208 Camshaft adjuster 1.0 12V VTI ZM01 EB0F 68bhp
Peugeot 307 Camshaft adjuster 9649309780 - 1920GR
Peugeot 307 Camshaft adjuster 9652536480 Denso 1920LQ
Peugeot 308 Camshaft adjuster VTI - HPI 1.4 16V 8FS EP3
Peugeot 308 Camshaft adjuster VTI - HPI 1.6 16V 5Fw EP6
Peugeot 308 Camshaft adjuster VTI HPIT 1.6 16V 5FU 5F03 EP6CDTX
Peugeot 407 Camshaft adjuster 1.8 16V 6FY EW7A Denso
Peugeot 407 Camshaft adjuster 2.2 16V 3FY EW12J4 9630499380 B23796 40601 5211 19209G
Peugeot 407 Camshaft adjuster 3.0 V6 24V XFU ES9J4S 1920HE

We stock Citroen camshaft adjusters as well
With over 40 years of experience as a professional cardismantler we know exactly which car part you need. With our specialisme in Citroën and Peugeot cars and vans our stock is based on exactly those spares where there's a demand for.


Exactly the right parts checked on VIN number
Over 65.000 car parts in our (online) warehouse
Part not found in our stock? We will search for a solution
Used car parts sold with a warranty & expert advice
Quick response to your part request
Swift delivery

Feel free to contact our salesteam on used car parts straight away.