Peugeot 306 rear axle solutions
We can supply several solutions for the axle problems like a repair set for your Peugeot 306 rear axle or a complete, new or second hand rear axle as a replacement. For all 306 models we stock both used and new replacement axles as well as all the different repair kits. The repair kits contain bearings and bushings and come in separate sets for the left and right hand side. When changing the bearings you will have to calculate a proper bit of labour hours as this isn't a very easy job.
The right Peugeot 306 rear axle for you
There are many different types of rear axles for the Peugeot 306, e.g. either with or without ABS, with disc brakes or brake drums. We can work out the right version for your car using the VIN-number, please
contact our salesteam
for prices and availability.
You can also check out the possible
306 rear axle versions
yourself in our online car parts catalogue.
Worldwide Shipment
Peugeot 306 rear axles or repair kits can be shipped to destinations worldwide, we take care of careful shipment for all kind of spare parts on a daily basis.
Send us a Peugeot 306 rear axle request
Peugeot 306 rear axle repair kits
A Peugeot 306 rear axle repair kit will include replacement bearings and bushings. When play on the rear axle is discovered at an early stage a repair kit can be a usefull investment. However replacing the bearing is a time consuming job and if there's too much wear a replacement will still be nescessary.
Peugeot 306 rear axle new (Brakes not included)
Beside second hand parts we also supply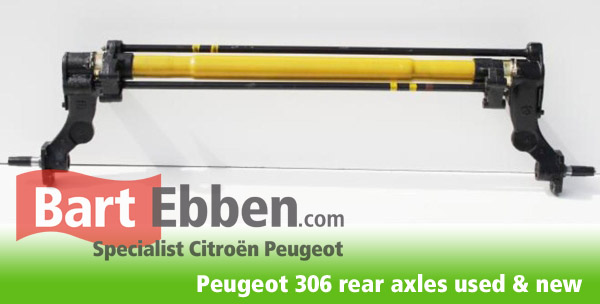 new Peugeot 306 rear axles at a really good price. The brakes are not included on these axles, so these will have to be reused from your old axle.
Peugeot 306 rear axle second hand
As a first class modern car breaker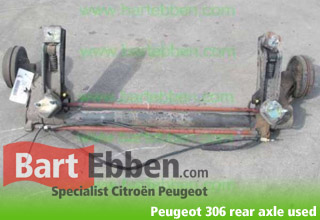 we sell many Peugeot 306 rear axles second hand. A used axle is properly tested before it is transfered to our warehouse and you will get a warranty on it.
Peugeot 306 rear axle silent blocks
The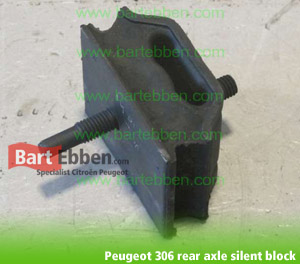 rubber silent blocks preventing the Peugeot 306 rear axle from bottoming out can wear out too. Especially when driving with heavy loads. We sell both rear and front silent blocks.