Bart Ebben since 1978! - Original Citroën | DS | Peugeot Parts - new and used. Get to know our 'old fashioned' customer service! +300.000 customers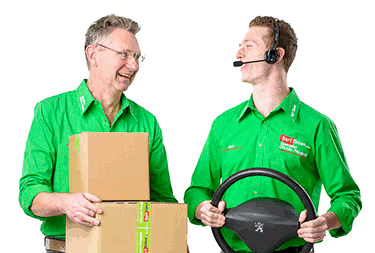 Since 1978 we are there for you! We love our work!


We are not a big company (25 colleagues) but THÉ Citroën | DS | Peugeot Parts Specialist in Europa.


Are you looking for a Citroën | DS | Peugeot original new or used part?


Call us at 0031 24 3488011 or send us an email. Click here.


You are in: Sitemap >
Used car parts
> Citroen dispatch
Used car parts CitroŽn Dispatch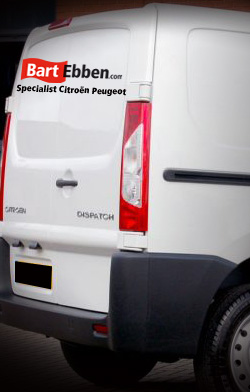 Have a look at our online inventory and search for the right used car parts Citroën Dispatch! In many countries the Citroën Dispatch is called Citroën Jumpy. Of course Bart Ebben can sell a second hand engine or a gearbox. But because only Citroen and Peugeot cars are dismantled the inventory holds many different used Citroen parts and used Peugeot parts too.

Searching the right Citroen Dispatch parts
Therefore we can supply Citroen Dispatch turbocharger, cylinder head, flywheel, ECU, BSI BSM fuse box, fuel pump, fuel tank, headlight, suspension parts, steering rack, steering pump, dashboard, bonnet, bumper, display, airbag, electronics, exhaust manifold, intake manifold as well to show you just a few examples. Searching for the right Citroen Dispatch car part can be done in our online catalogue. Or let us do the spare part searching and:

Please send us a Citroen Dispatch part request
Second hand Citroen Dispatch car part shipping
Our company is located in the Netherlands, however we ship second hand Citroen Dispatch car parts to customers all over the world daily. Shipping the chosen second hand car part to your location is no problem, because of our broad experience the parts are packed with great care. By contacting our salesteam specific shipping information will be provided in short notice.

A few more examples of used car parts Citroen Dispatch are shown below:
Citroen Dispatch gearbox (transmission)
Citroen Dispatch engine and engine parts
Citroen Dispatch ECU - engine computer
Citroen Dispatch cylinder head
Citroen Dispatch door
Citroen Dispatch starter motor
Citroen Dispatch alternator
Citroen Dispatch ABS ESP unit
Citroen Dispatch exhaust manifold
Citroen Dispatch EGR - Engine Gas Recirculation
Citroen Dispatch front bumper
Citroen Dispatch bonnet
Citroen Dispatch steering rack
Citroen Dispatch turbocharger
Citroen Dispatch flywheel
Citroen Dispatch radiator
Citroen Dispatch throttle position sensor
Citroen Dispatch left headlight
Citroen Dispatch right headlight



We can also supply Citroen Jumpy or Peugeot Expert car parts.
Find a used engine Citroen Dispatch
Find a used gearbox Citroen Dispatch
Easily find your car parts through > Brand > Model > Year

Or just call us 0031 24 3488011 or send in an enquiry. Click here.


With over 40 years of experience as a professional cardismantler we know exactly which car part you need. With our specialisme in Citroën and Peugeot cars and vans our stock is based on exactly those spares where there's a demand for.


Exactly the right parts checked on VIN number
Over 65.000 car parts in our (online) warehouse
Part not found in our stock? We will search for a solution
Used car parts sold with a warranty & expert advice
Quick response to your part request
Swift delivery

Feel free to contact our salesteam on used car parts straight away.


| | |
| --- | --- |
| | This is what customers say about us |
Yosuke





25-08-2021
The product has arrived and fits perfectly. Thank you very much for your support. If I have any more...
GŁnther





20-08-2021
I wanted to thank you again for the nice and friendly communication and the quick, uncomplicated pro...
Rainer





16-08-2021
The shipment was well received and everything was fine. Thank you for the perfect service, and I wou...
Johan Koppel





13-08-2021
Thanks Tom for your clear explanation and perfect aftercare.