You are in: Sitemap >
Used car parts
> Citroen xm
Used car parts CitroŽn XM
As a supplier for used car parts Citroën XM we sell auto parts worldwide.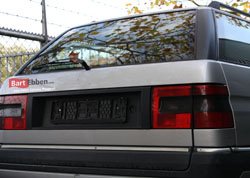 Not just for modern models but for youngtimers like the Citroen XM as well. Our website is equipped with an online used car part warehouse featuring an online ordering option. As a professional cardismantler specialised in Citroen and Peugeot our actual stock is shown online, you can find lots more than just Citroen XM engines and gearboxes. Search for all possible Citroën XM used car parts easily in our online catalogue.

Wide range of used car parts Citroen XM
In our warehouse we stock a wide range of used car parts Citroen XM including an engine, gearbox, cylinder head, catalytic converter and electrical parts like an airbag, throttle body, relais, ECU engine management computer, heater fan, etc. Of course we stock parts for the hydropneumatic suspension too like the hydraulic pump, control block, ride height control valve, shock absorber, suspension sphere, etc. Or XM body panels like doors, bonnets, bumpers or mirrors and interior parts like seats, seat belts, a dashboard or heating control panels as well. Check our second hand car parts stock yourself or send us a parts request.
Send us a Citroen XM spare part request
Finding all common Citroën XM used spare parts is possible from behind your desk in our online catalogue or just give us a call. Our salesmen are ready to help you out, either they will answer your questions by phone or they will send you all information by email quickly after you have sent us a Citroen XM spare part request. We can also arrange worldwide shipping.

Send us a Citroen XM car part request
Examples of used car parts Citroën XM
Citroen XM gearbox (transmission)
Citroen XM engine and engine parts
Citroen XM ECU - engine computer
Citroen XM cylinder head
Citroen XM turbocharger
Citroen XM door
Citroen XM starter motor
Citroen XM alternator
Citroen XM high pressure pump (suspension)
Citroen XM height control valve
Citroen XM steering control valve
Citroen XM suspension control block
Citroen XM catalytic converter
Citroen XM steering column combination switch


Do you experience problems with your Citroen XM hydro-pneumatic suspension in cold weather? Try our special cold weather LHM hydraulic fluid additive!

Citroen XM used engine examples
Citroen XM used gearbox examples
With over 40 years of experience as a professional cardismantler we know exactly which car part you need. With our specialisme in Citroën and Peugeot cars and vans our stock is based on exactly those spares where there's a demand for.


Exactly the right parts checked on VIN number
Over 65.000 car parts in our (online) warehouse
Part not found in our stock? We will search for a solution
Used car parts sold with a warranty & expert advice
Quick response to your part request
Swift delivery

Feel free to contact our salesteam on used car parts straight away.