You are in: Sitemap >
Used car parts
> Peugeot 208
Used car parts Peugeot 208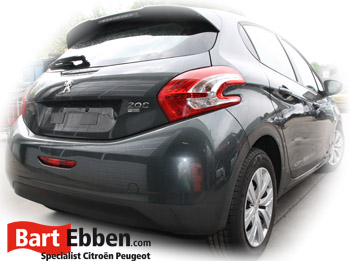 All kinds of used car parts Peugeot 208 can be shipped from stock by Bart Ebben. Our stock is not limited to just an engine or a gearbox, we can deliver an airbag, an ECU, front seat, rear axle, throttlebody, starter, generator, headlight, steering pump, steering rack, indicator switch etc. just as well. Second hand auto parts for all petrol and diesel Peugeot 208 models from the 1.0 Vti petrol to the GTI.


Peugeot 208 used car part request
Interested in all our other part groups? For all possible Peugeot 208 used car parts you can search our online catalogue. The fastest way to know whether we have your spare part in stock is to send us a part request or give us a phonecall. Our salesteam will respond to your question, making sure you know all about availability, condition and price of the Peugeot 208 used car part needed.

Send us a Peugeot 208 used car part request
Peugeot 208 car parts shipment
After our salesmen offered you a suitable second hand Peugeot 208 car part, shipment can be taken care of as well. We ship spare parts worldwide each working day and we certainly do not take our packaging lightly. Please let our salesteam inform you on the specific, individual shipment details.
Examples of used car parts Peugeot 208
Peugeot 208 gearbox (transmission)
Peugeot 208 engine and engine parts
Peugeot 208 ECU - engine computer
Peugeot 208 cylinder head
Peugeot 208 door
Peugeot 208 starter motor
Peugeot 208 alternator
Peugeot 208 Bonnet
Peugeot 208 Fuel tank
Peugeot 208 Diesel pump - fuel pump
Peugeot 208 Petrol pump - fuel pump
Peugeot 208 ABS ESP unit
Peugeot 208 Turbocharger
Peugeot 208 Clutch assembly
Peugeot 208 Air flow meter
Peugeot 208 Intake manifold
Peugeot 208 Steering rack - steering box
Peugeot 20 Catalylic converter
Peugeot 208 Exhaust manifold
Peugeot 208 engine sump - oil pan
Peugeot 208 Flywheel
Peugeot 208 Engine Oil sump
Peugeot 208 EGR
Peugeot 208 Crankshaft
Peugeot 208 Camshaft
Peugeot 208 Front bumper
Peugeot 208 Left headlight
Peugeot 208 Right headlight
Peugeot 208 Info display
Peugeot 208 Fuse box - BSI - BSM

Peugeot 208 engine examples
Peugeot 208 gearbox examples
With over 40 years of experience as a professional cardismantler we know exactly which car part you need. With our specialisme in Citroën and Peugeot cars and vans our stock is based on exactly those spares where there's a demand for.


Exactly the right parts checked on VIN number
Over 65.000 car parts in our (online) warehouse
Part not found in our stock? We will search for a solution
Used car parts sold with a warranty & expert advice
Quick response to your part request
Swift delivery

Feel free to contact our salesteam on used car parts straight away.