Finding the right supplier for used car parts Citroën C4 Picasso is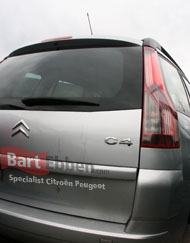 not always easy. For lots of customer Bart Ebben proves to be the best partner. In over 35 years we have gained a huge experience as a professional cardismantler specialised in Citroen and Peugeot. Spare parts can be provided for the normal C4 Picasso but for the large MPV called C4 Grand Picasso as well.
Because of this specialism we can offer far more than just a Citroen C4 Picasso engine or a gearbox. Supplying an
airbag
, turbocharger, exhaust manifold, front seat, rear seat, steering rack, wishbone, door, window lifter, window switch, alternator, ABS ESP unit, BSM fuse box, COM2000 combination switch, airconditioning pump, heating fan, hand brake, brake calliper, ECU,
front bumper
, intake manifold, fuel tank, fuel pump, air suspension springs and compressor, etc. is just as common for us, along with many, many other parts.
Please send us a Citroen C4 Picasso part request
Worldwide shipping of Citroen C4 Picasso parts
Worldwide shipping of Citroen C4 Picasso used car parts is a daily routine for us. After we have received your part request our salesmen will make sure you order the right Citroen C4 Picasso spare parts second hand or new. After your confirmation packaging will start, this job is taken very seriously and we only ship our parts with selected and highly experienced, automotive shipping companies.
We have gathered a couple examples of used car parts Citroën C4 Picasso and C4 Grand Picasso below: