You are in: Sitemap >
Cardismantling
> Used peugeot carparts
Used Peugeot carparts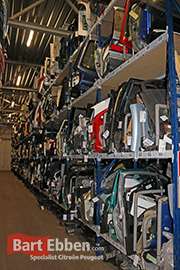 You have found the right address for used Peugeot carparts; Welcome to the web pages of Bart Ebben Specialist Citroën Peugeot cardismantling. A huge warehouse and over 40 years of cardismantling experience are at your disposal.
We stock parts for the most recent models such as the 106, 107, 108, 1007, 206, 207, 208, 2008, 306, 307, 308, 3008, 406, 407, 4007, 4008, 508, 5008, 607, 806, 807 and the whole van range with the Bipper, Partner, Expert, J5 and Boxer.

Used Peugeot carparts warranty
At several stages in our dismantling process the quality of our second hand car parts is checked very thoroughly. We want to make absolutely sure that the part you order will fit your car and that the spare part is in good shape. In case a part should break down it is good to know we have our Peugeot used car parts warranty system. Except for the electrical parts there's a mimimum warranty of 3 months on all parts excluding labour and shipping costs.
Search our Peugeot used carparts stock by clicking here.
Send us a used Peugeot carparts request
Modells we sell used Peugeot carparts for
Peugeot 106
Peugeot 107
Peugeot 108
Peugeot 1007
Peugeot 206
Peugeot 207
Peugeot 208
Peugeot 2008
Peugeot 306
Peugeot 307
Peugeot 308
Peugeot 3008
Peugeot 406
Peugeot 407
Peugeot 4007
Peugeot 508
Peugeot 5008
Peugeot 605
Peugeot 607
Peugeot 807
Peugeot Boxer
Peugeot Bipper
Peugeot Expert
Peugeot Partner
Peugeot Partner Venturi electric

Besides Peugeot we are also specialized in used Citroën carparts.
With over 40 years of experience as a professional cardismantler we know exactly which car part you need. With our specialisme in Citroën and Peugeot cars and vans our stock is based on exactly those spares where there's a demand for.


Exactly the right parts checked on VIN number
Over 65.000 car parts in our (online) warehouse
Part not found in our stock? We will search for a solution
Used car parts sold with a warranty & expert advice
Quick response to your part request
Swift delivery

Feel free to contact our salesteam on used car parts straight away.