You are in: Sitemap >
Cardismantling
> Used citroen carparts
Used CitroŽn carparts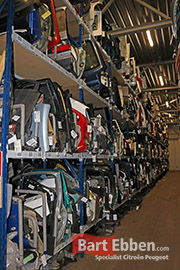 You have found the right address for used Citroen carparts; Welcome to the web pages of Bart Ebben Specialist Citroën Peugeot. We stock parts for the most recent models such as the C1, AX, Saxo, C2, Xsara, C3, C3 Picasso, Xantia, C4, C4 Picasso, C4 Cactus, C4 Aircross, C5, C6, XM, C8 and the whole van range with the Nemo, Berlingo, Jumpy, Dispatch, C25, Jumper and Relay. A huge warehouse and over 40 years of experience are at your disposal.

Used Citroen carparts warranty
We check the quality of our second hand car parts very thoroughly at several stages in our dismantling process. We want to make absolutely sure that the part the ordered will fit your car and that the spare part is in good shape. In case a part should break down it is good to know we have our Citroen used car parts warranty system. Except for the electrical parts there's a minimum warranty of 3 months on all parts excluding labour and shipping costs.

Click here to search our stock of used Citroen carparts or find a selection of Citroen models below as an example:
Citroen Berlingo
Citroen Berlingo Venturi
Citroen C1
Citroën C2
Citroen C3
Citroen C3 Picasso
Citroën C4
Citroen C4 Picasso
Citroen C4 Aircross
Citroen C4 Cactus
Citroen C5
Citroën C6
Citroën C8
Citroen DS5
Citroën Dispatch
Citroën Jumper
Citroën Jumpy
Citroën Relay
Citroen Saxo
Citroën Xantia
Citroën XM
Citroën Xsara
Citroen Xsara Picasso
Citroën ZX

Besides Citroen we are also specialized in used Peugeot carparts.

With over 40 years of experience as a professional cardismantler we know exactly which car part you need. With our specialisme in Citroën and Peugeot cars and vans our stock is based on exactly those spares where there's a demand for.


Exactly the right parts checked on VIN number
Over 65.000 car parts in our (online) warehouse
Part not found in our stock? We will search for a solution
Used car parts sold with a warranty & expert advice
Quick response to your part request
Swift delivery

Feel free to contact our salesteam on used car parts straight away.